October 28, 2015 | Gillian Conway
No Stress Holiday Entertaining
Entertaining used to be a bad word in my mind. One that evoked memories of dishes burned to charcoal, ingredients forgotten, guests arriving to witness stir fry quite literally en flambé on the stove, corked wine, no ice, and that terribly awkward moment when the announcement is made that the dog has eaten the roast. For me, all that chaos can be attributed to one, dreaded word. Entertaining.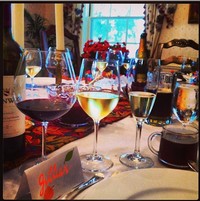 The holidays are nearly upon us, and the fearsome glory of entertaining is on my mind.
I come from a long line of brilliant hostesses. My mother, her mother, and her mother all possessed that special gene that manifests itself when planning, arranging, and hosting on a social gathering. It's the perfect combination of the organized, creative, whimsical, and capable that gets the table set beautifully, the lighting just so, and meal ready on time. It's the gracious warmth of a smile and an open heart that makes guests feel right at home. And for me-someone who struggles with all of the above- it's really…freakin'…hard.
But, I have learned from the best over the years, and there is one good rule I always follow. To be a great host, be present with your guests. That means not stressing about the meal, or worrying about all the cleanup, or whether the napkins are pressed, or the wine is good enough. Keep it simple, so you can entertain guests and also be entertained. After all, it's a party-and the host should have some fun, too.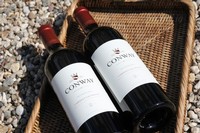 The wine? That part's easy. We produce over 15 different wines, so I can always find something to pair with whatever I am serving., and you can too. (If my friends get tired of having only Conway and Deep Sea wines at my parties-I've never heard a complaint!) Over the next few months I will be serving mostly CONWAY Cabernet Sauvignon, Happy Canyon 2013, CONWAY Cabernet Sauvignon, Rutherford 2009, Deep Sea Chardonnay, "The Sea Turtle," and our soon-to-be-released in December CONWAY Pinot Noir, Sta. Rita Hills, 2013. Keep an eye out for that one, it is one of the best wines we have made to date.
So this holiday season, if you're hosting-don't sweat the small stuff. Hang out with your guests. Have fun. Be merry. If you're attending, be kind to your host, bring them a bottle of delicious Conway wine, and make sure they have a glass or two with you. Maybe the dog will still eat the roast, or the pie crust will get burned, but you're not alone. All across the country we are opening our homes to family, opening that wine for friends and doing the dreaded bad word-entertaining. But if we keep it simple, and that glass of wine full, we'll be blissfully, and happily entertained ourselves.
Comments
Joy
@ Dec 26, 2015 at 6:40 AM
I will visit here soon
Louwis
@ Dec 26, 2015 at 7:22 AM
In the holiday, there is an issue everybody feel worry with collecting the quality wine in the holiday party. There are some characteristics by which anyone may understand the quality wine for the holiday party. I will definitely follow before purchasing the wine in the holiday party.
http://topassignmenthelp.tumblr.com/
@ Feb 25, 2016 at 9:06 AM
You actually make it appear really easy with your presentation however I in finding this topic to be really one thing that I think I would by no means understand. It sort of feels too complex and very huge for me. I am taking a look forward in your next post, I'll attempt to get the hang of it!
ninja essay writers
@ Apr 20, 2016 at 6:21 AM
Nice blog here! Also your web site loads up very fast! What web host are you using? Can I get your affiliate link to your host? I wish my site loaded up as quickly as yours lol
holiday apartments in dubai
@ Jul 21, 2016 at 5:22 AM
Holidays are the best part of the year ,you did a great job by sharing this post of holidays with us i wish everyone can enjoy the holidays .
dubai holiday homes rent
@ Jul 21, 2016 at 5:24 AM
Every year everyone waits for the holidays for outing and spend their time with families it's a wonderful part of the every year.
assignment writing service
@ Aug 4, 2016 at 3:37 AM
I want to also read for the many articles and you have made a brilliant site and articles is also very interesting with the blogs And grateful to chose these instructions thank you so much sharing with us your website.
Richardtag
@ Jan 23, 2017 at 8:45 AM
leoafmo http://www.alpassocoitempi.it/385-ray-ban-wayfarer-tartarugati-uomo.htm http://www.comite-jumelage-vigneux-sur-seine.fr/867-basket-saucony-cloutees.html http://www.tissages-de-gravigny.fr/nike-air-max-thea-femme-rose.html http://www.puntocomadv.it/833-nike-nz-shox-2016 http://www.lucilepeuch.fr/nike-huarache-bas-prix-121.php Vendita Scarpe Reebok Easytone Ray Ban Occhiali Da Sole Tondi Nike Free 5.0 Nere E Bianche Nike Shox R4 Outlet Sac Longchamp Homme Toile
Richardtag
@ Jan 23, 2017 at 2:27 PM
mcjmxvj http://www.lldlm.fr/226-asics-rose-gold.html http://www.lldlm.fr/872-chaussure-asics-homme-amazon.html http://www.flight-ilfilm.it/scarponi-timberland-blu.html http://www.faustoparavidino.it/oakley-fluo.aspx http://www.meranergruppe.it/puma-suede-platform-nere-e-marroni-748.html Puma Rihanna Noir Et Doré Nike Roshe Run Jaune Fluo Asics Gel Nimbus 18 Decathlon Nike Shox Verde E Nere Nike Roshe Run Tumblr Women
Richardtag
@ Jan 23, 2017 at 8:21 PM
lbxvzdg http://www.amadeus-voyance.fr/471-puma-fenty-grise.html http://www.chaletinterclubmontventoux.fr/463-nike-air-max-noir-2016.php http://www.turismolastminute.it/117-vans-alte-uomo.html http://www.semioticamente.it/nike-sb-lunar-oneshot-black http://www.amadeus-voyance.fr/669-puma-creepers-rose-beige.html Reebok Bleu Air Max 90 Pelle Nera Nike Air Force Con Swarovski New Balance Bordeaux 574 Sonic Nike Air Force Elite
Round Rock Foreclosures
@ May 28, 2017 at 8:31 AM
So luck to come across your excellent blog. Your blog brings me a great deal of fun.. Good luck with the site.
AdirondackChairs
@ Jun 5, 2017 at 10:06 AM
Easily, the article is actually the best topic on this registry related issue. I fit in with your conclusions and will eagerly look forward to your next updates. Just saying thanks will not just be sufficient, for the fantasti c lucidity in your writing. I will instantly grab your rss feed to stay informed of any
Blog
Recent Posts
November 2, 2016

June 1, 2016

May 2, 2016

(24 Comments)

April 4, 2016

(50 Comments)

March 28, 2016

(30 Comments)

November 11, 2015

October 28, 2015

(12 Comments)

October 20, 2014

September 25, 2014

(1 Comment)

September 15, 2014

(4 Comments)
Blog Categories
Our Writers
Blog Archives