2013 Conway Pinot Noir, Sta. Rita Hills Reserve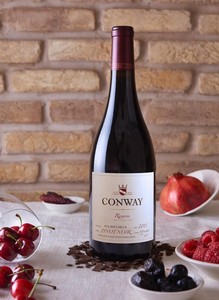 Wine Specs
Appellation
Sta. Rita Hills / Santa Barbara County
Sorry, this wine is sold out
The world class fruit from the Santa Rita Hills AVA in Santa Barbara County has produced some of the most spectacular Pinot Noirs in California. Not surprisingly, grapes are often unattainable, as producers clamor to source their next vintage from this promising region. Luckily, the 2013 harvest was the twin brother to the wonderful 2012 vintage. The growing year was calm, sunny, temperate and provided above average crop levels. One of the premier vineyards in the AVA produced a crop of some of our favorite Pinot Noir Clones, and we were incredibly excited about the quality.
All of the fruit was de-stemmed and meticulously sorted. The grapes were fermented in stainless steel until the completion of both primary fermentation and malo-lactic fermentation and then barreled down into 60 gallon neutral French Oak barrels. The majority of the final blend was racked into tank and transferred into primarily neutral French Oak barrels. That wines was aged for 14 months and became our Conway Pinot Noir, Sta. Rita Hills 2013.
However, a small batch of Clone 115 and Clone 667 stood out from the rest of the barrels. This was the inspiration for the Puncheon Program, the first vintage where we have broken with tradition, and chosen a unique barrel size for our Reserve Pinot Noir.
We had committed to aging the wine in partial new French Oak barrels, but as always, our focus for our barrel programs is driven by our desire of balance. We added the Puncheons- 132 gallon barrels with the goal of maintaining fruit as the focus and oak as the seasoning. One new and 2 single fill Puncheons, along with a few single fill 60 gallon barrels were held back in the winery and selected for the Reserve label. Rather than let the barrel direct the majority of flavors in the wine, we wanted the fruit to shine, and allow the barrel to infuse and support the intrinsic qualities of the grapes.
The Reserve Pinot Noir was aged on its lees for roughly fourteen months then bottled unfined and unfiltered.
Luscious, rich, and fruit-forward, the effects we attribute to the use of the puncheons are defined by precise fruit flavors supported by the perfect amount of toasty oak notes from start to finish. Notes of ripe cherry, red currant, smoke and leather with a hint of strawberry and cedar hit the palate with a fresh and refined quality. Designed to age, this wine will continue to show beautifully for years to come. Limited production of 267 cases.
Wine Specs
Appellation
Sta. Rita Hills / Santa Barbara County
Product Reviews
Ron Sabia
(Sep 28, 2016 at 3:43 PM)
Kenneth
(Nov 18, 2016 at 1:01 PM)