Deep Sea Blog

Entertaining used to be a bad word in my mind. One that evoked memories of dishes burned to charcoal, ingredients forgotten, guests arriving to witness stir fry quite literally en flambé on the stove, corked wine, no ice, and that terribly awkward moment when the announcement is made that the dog has eaten the roast. For me, all that chaos can be attributed to one, dreaded word. Entertaining.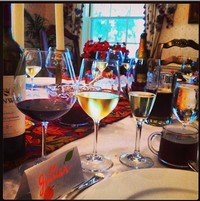 The holidays are nearly upon us, and the fearsome glory of entertaining is on my mind.
I come from a long line of brilliant hostesses. My mother, her mother, and her mother all possessed that special gene that manifests itself when planning, arranging, and hosting on a social gathering. It's the perfect combination of the organized, creative, whimsical, and capable that gets the table set beautifully, the lighting just so, and meal ready on time. It's the gracious warmth of a smile and an open heart that makes guests feel right at home. And for me-someone who struggles with all of the above- it's really…freakin'…hard.
But, I have learned from the best over the years, and there is one good rule I always follow. To be a great host, be present with your guests. That means not stressing about the meal, or worrying about all the cleanup, or whether the napkins are pressed, or the wine is good enough. Keep it simple, so you can entertain guests and also be entertained. After all, it's a party-and the host should have some fun, too.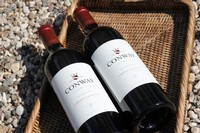 The wine? That part's easy. We produce over 15 different wines, so I can always find something to pair with whatever I am serving., and you can too. (If my friends get tired of having only Conway and Deep Sea wines at my parties-I've never heard a complaint!) Over the next few months I will be serving mostly CONWAY Cabernet Sauvignon, Happy Canyon 2013, CONWAY Cabernet Sauvignon, Rutherford 2009, Deep Sea Chardonnay, "The Sea Turtle," and our soon-to-be-released in December CONWAY Pinot Noir, Sta. Rita Hills, 2013. Keep an eye out for that one, it is one of the best wines we have made to date.
So this holiday season, if you're hosting-don't sweat the small stuff. Hang out with your guests. Have fun. Be merry. If you're attending, be kind to your host, bring them a bottle of delicious Conway wine, and make sure they have a glass or two with you. Maybe the dog will still eat the roast, or the pie crust will get burned, but you're not alone. All across the country we are opening our homes to family, opening that wine for friends and doing the dreaded bad word-entertaining. But if we keep it simple, and that glass of wine full, we'll be blissfully, and happily entertained ourselves.
Blog
Recent Posts
November 2, 2016

June 1, 2016

May 2, 2016

November 11, 2015

October 28, 2015

(3788 Comments)

October 20, 2014

September 25, 2014

(1 Comment)

September 15, 2014
Blog Categories
Our Writers
Blog Archives