About US
DEEP SEA and Conway wines are produced by siblings Tom, John and Gillian Conway in Santa Barbara, California.
DEEP SEA Wines are sourced from coastal vineyards to reflect the maritime influence of the Pacific Ocean. We craft thesewines in a contemporary style for the modern wine drinker.
Conway Wines are sourced from the highest quality vineyards in Santa Barbara, and we reserve the best barrels, lots or vineyard sources for this label, which we created for our family. This label is for wines that display the most character, complexity, and ageability in the cellar.
Our Style of Wine: We're based in Santa Barbara County, where much of the land that is planted to grapevines is located twenty miles or less from the Pacific Ocean. Coastal air is cooler than inland regions, and the geology of the land in Santa Barbara County (particularly notable in Sta Rita Hills for example) lends itself to trapping cool air and moisture in the valleys. Grapes grown in these areas are positively impacted by what we call the "ocean effect". This effect allows the grapes we use for Deep Sea to ripen over a longer period of time. The slow, steady development of this fruit leads to the perfect balance we look for when measuring sugar, acidity, and maturity of flavors that signify it is time to harvest. This is a good thing, because wines from our area are known for having great balance, bright acidity, and of course beautiful California fruit. We strive to capture all of those elements in our Deep Sea wines.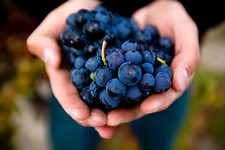 FARMING PRACTICES: We adhere to as many sustainable farming techniques as are practical in our own vineyards, choosing to forego heavy pesticide and fertilizer use in favor of cover crops that contribute to soil regeneration by adding nutrients back into the earth. We minimize our watershed impact by practicing non-irrigation farming - nearly half of our estate vineyard acreage is dry-farmed. Additional fruit we purchase comes from vineyards that are certified to practice organic and/or biodynamic farming methods, as well. We contract Chardonnay and Pinot Noir for Deep Sea from many of our area's leading environmentally conscious farmers. Our fruit is always hand harvested when possible, minimizing vineyard degradation and assuring long term health and productivity of the vines.