OPEN DAILY FOR WINE!
SUMMER HOURS: 11AM-8PM
FRIDAY AND SATURDAY 11AM-9PM
No Reservations, All Seating is First Come-First Serve
For larger groups of 10 or more, we recommend arriving between 11am and 1pm to increase likelihood of outdoor seating, and to ensure faster service for your group.
---
Upcoming Santa Barbara Events
Thursday, June 15th: Blind Tasting Night! Test your sommelier skills, and taste three wines "blind." If you guess all three correctly, win a Deep Sea Sommelier's Wine Opener. $15.00 to play!
Wednesday, June 28th: Paint 'N Sip 6pm-7:30pm. Tap into your creative side, create a masterpiece on canvas while enjoying the sunset and your favorite Deep Sea wine. All materials included, $35 pp. RSVP to (805) 618-1185 reserve your spot!
Tuesday, July 4th: We are OPEN LATE from 11am-10pm. Best place in town to view the fireworks show with your favorite wine! Seating is first-come first serve, so join us early to grab your table!
Thursday, July 6th: LIVE MUSIC 3pm-6pm. The Soul Stingers playing your favorite covers and original music live on the patio!
---
Location
Deep Sea Tasting Room
217G Stearns Wharf
Santa Barbara, CA 93101
p 805.618.1185
Gillian Conway. Owner & Manager | gillian@conwayfamilywines.com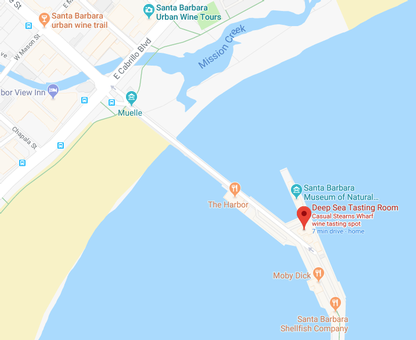 Need help finding us? Feel free to call us at (805) 618-1185 for assistance
From the Amtrak Train Station:
Stearns Wharf is located a quarter mile from the Santa Barbara Amtrak station, just down State Street.
From the 101 N:
Take exit 96B for Garden St
Turn left onto Garden St
Turn right onto E Cabrillo Blvd
The entrance onto Stearns Wharf will be on your left.
From the 101 S:
Take exit 97 for Castillo St toward Harbor
Turn righ t onto Castillo St
Turn left onto W Cabrillo Blvd
The entrance onto Stearns Wharf will be on your right.
Photogallery rendered here.