Deep Sea Vineyards in Santa Barbara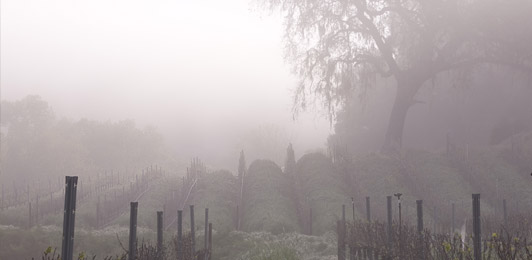 Deep Sea wines and Conway wines are produced with grapes sourced from vineyards in Santa Barbara county, within a close proximity to the Pacific Ocean.
Vineyards along the California coastline are cooled by fog and ocean breezes. The fruit grown in these maritime vineyards achieves a balanced flavor at higher acidity and lower sugar levels than those grown in warmer areas inland.
We purchase fruit from noteworthy vineyards in Santa Barbara, in the Santa Ynez Valley, the Sta. Rita Hills, and a little farther north in the Arroyo Grande Valley. We contract with specific blocks, and actively manage the individual vines in that area. We work with growers to formulate viticultural practices and the rows are farmed to our specifications. We "call the pick" by testing brix levels at harvest time. We concentrate on quality rather than yield per acre, and we carefully hand pick the grapes when they reach the right balance of flavor, acidity and sugar.