Welcome to Deep Sea Wine Tasting Room, home of Conway Family Wines - located on Stearns Wharf in picturesque Santa Barbara, California! Our newly renovated space features 360 degree views of the Pacific coastline, Channel Islands, Santa Barbara Harbor and the Riviera.
Summer Hours
Monday - 12:00pm-8:00pm
Tuesday - 12:00pm-8:00pm
Wednesday - 12:00pm-8:00pm
Thursday - 12:00pm-8:00pm
Friday - 12:00pm-9:00pm​
Saturday - 12:00pm-9:00pm​
Sunday - 12:00pm-8:00pm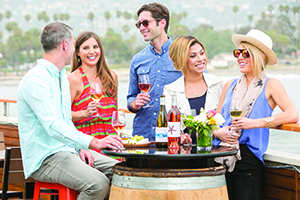 There is no better place to sip and savor Conway Family Wines all while taking in the breathtaking views from our outdoor deck overlooking the Pacific Ocean. We are so excited to open our first tasting room in our home town - drop by for a visit whenever your travels bring you to beautiful Santa Barbara! The Tasting Room is open 7 days per week, and is available for private events and receptions.
Cheers, The Conway Family