September 23, 2022 | Gillian Conway
Harvest 2022
Happy Harvest!
It's harvest time again! At Conway Family Wines, Autumn is a special time of year. When the first vineyard block is ready to be picked, a sense of excitement and urgency takes over as the anticipation of receiving our first grapes is upon us. Our 2022 vintage came in a little early, and there was much preparation to be done for the arrival of our hand-harvested grapes. With every vintage being a little different, the hustle of arranging harvest is always a thrill. There is great satisfaction in watching the first grapes of the year tumble into the press, and we are always grateful when Mother Nature has provided us with another excellent crop.
The 2022 harvest was interesting due to the heat waves we experienced in the Santa Ynez Valley. For the first time since we began making wine in 2007, we brought in our Pinot Noir before any other varietal. Typically the Sauvignon Blanc and Chardonnay come in first, but record temperatures ripened the Portico Hills Pinot Noir block ahead of time. We were lucky to get the fruit in before any mishaps, and are so happy with the quality and condition of the grapes. We can't wait to see how the rest of the vintage turns out!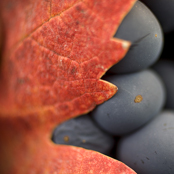 This year was especially busy for our family, with the GRAND OPENING of our second Deep Sea Tasting Room in the Ventura Harbor Village. We're thrilled to have found another space with an open patio, and harborside views where our Deep Sea and Conway wines can be enjoyed by members every day!
We look forward to sharing our wines with you, and thank you for your support of our family winery. Happy Harvest!
Cheers, The Conways
Comments
Commenting has been turned off.
Blog
Recent Posts
September 23, 2022

November 2, 2016

June 1, 2016

May 2, 2016

November 11, 2015

October 20, 2014

September 25, 2014

(1 Comment)

September 15, 2014
Blog Categories
Our Writers
Blog Archives