Deep Sea Blog

Rosé!
If there was ever a way to measure the increase in demand and popularity of this light, crisp, and delightfully pink drink, it is by the sheer number of instagram posts referencing the consumption, enjoyment, and "cool factor" of rosé this Spring.
Rosé or pink wines enjoyed some popularity in the US in the 80's, then developed a bad rep among wine snobs and later by consumers who still confuse it with the infamous White Zinfandel, or Blush.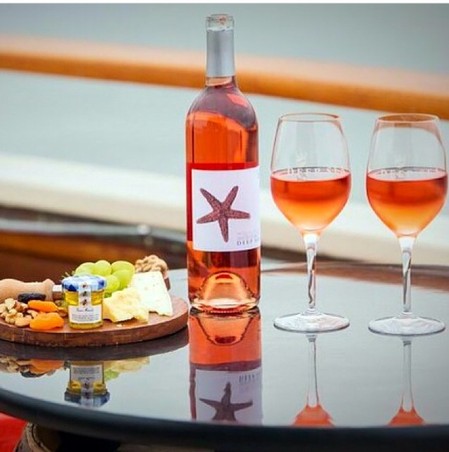 But the real rosé -the kind with fragrant floral and fruity aromatics that lead you to fresh fruit flavors, stony minerality, confident structure, and surprising textures, has recently come into fashion everywhere. This is not the rosé that comes in a box, or that you drink with a straw or serve on ice. (Side note I'm actually totally ok with ice in my rose ever since I visited Provence and witnessed the French habit of serving glasses of rosé along with a second glass filled with ice, and a little silver spoon. If they can do it, so can I).
Its cool now to drink rosé, and I'm pretty excited about it. Even Brad and Angelina have their own Provence rosé brand, which I must admit is pretty darn tasty. So what's so alluring about it? Is it just the color? Every shade of pink is available, even the novice wine drinker can appreciate the plethora of pinks to choose from. And not just the color, rosé can be sweet, dry, fruity, stony, crisp, fresh, lazy, syrupy, and even leaning toward a veiled attempt to be a light red wine when it's concentrated enough. Rosé from Tavel in the southern Rhone Valley for example could almost pass for a Pinot or Beaujolais; the color is so rich and rubylike.
Maybe its more than pure aesthetics. Perhaps a gorgeous salmon pink bottle conjures romantic images of sun bathing on the beaches of Antibes, sipping away on a shady patio at the hotel Du Cap-Eden-Roc, channeling Hemmingway. One sip and suddenly we are strolling through streets dappled with the famous golden light of Provence, signing contentedly at a full glass of the palest pink wine, while the murmured laughter of families on holiday echoes through the crowded courtyards of beach towns all along the cote- du Azure…
Exotic vacations aside, its just fun to drink something other than White or Red. Rosé is a daytime wine, its also a great dinner wine. Its versatile, usually has enough acid to stand up to poultry, fish and even pork chops. Its festive, and has an aura of the season, in the same way Champagne always feels like the holidays, only it speaks of warm days, and summer gatherings. Since it is often lower in alcohol than red wine, rosé has the reputation that it can be drunk in larger quantities, over a long period of time, making it a great wedding wine, or vacation wine. The popular hastag says it all #roseallday, though I don't recommend forgetting that it is indeed #wine and it will make you #drunk if you're not careful!
For me the appeal is in the romance of its origin, but I shouldn't yearn for far away places, when rose from my backyard is equally enchanting. Our Deep Sea "Sea Star" Pinot Noir rosé is made with grapes grown in Santa Barbara County, a place not dissimilar to the South of France. Santa Barbara has been nicknamed the American Riviera since the 1930's when the glamorous Hollywood elite would frequent the Cabrillo bathhouses, and the El Encanto Hotel. Juicy cherry and strawberry flavors make our 100% Santa Barbara Pinot Noir the perfect summer wine. Its a sipping experience that is light, fruity, and dry, with a whisper of sweet red fruit on the finish. It's everything I want from a Rosé. Bursting with fresh watermelon, cherry and peach fruit notes, the first sip of this Santa Barbara sipper will kick-off all the fun of Summer, and whisk me away to the beaches of my imaginings. South of France? Sure, maybe another time. For now I'll stay home, pop a few corks, and dream of being right where I am. #roseallday #drinkpink #pinkwine #myrose
Blog
Recent Posts
September 23, 2022

November 2, 2016

June 1, 2016

May 2, 2016

November 11, 2015

October 20, 2014

September 25, 2014

(1 Comment)

September 15, 2014
Blog Categories
Our Writers
Blog Archives