Deep Sea Blog

It's time to think about your Thanksgiving Wine.
2009 CONWAY Cabernet Sauvignon, Rutherford
Thanksgiving is a special, historical holiday. Celebrate with a wine that will captivate you, andtransport you to the beginning of the California wine story.
The story begins in a special place called Rutherford.

Rutherford has immense historical significance in the wine world, and has been the site of preeminent vineyard plantings since the 1850's. In 1864, Elizabeth Rutherford and her husband Thomas Rutherford were given a 1,040 acre portion of land as a wedding gift from Elizabeth's grandfather, George C. Yount. Subsequently, Thomas Rutherford went on to establish himself as a wine producer in the years preceding the turn of the century. Vineyard plantings in Rutherford survived Phylloxera and Prohibition, two major crises for the budding California Wine Industry. Pioneering vintners, viticulturists, and winemakers have followed a strict adherence to quality from the early days of wine production in the area. These elevated standards are still practiced today, and continue to shape the reputation of the Napa Valley. In 2009, my family had the rare opportunity to purchase grapes from a famous vineyard site in Rutherford(regrettably the contract does not allow us to disclose the site name).

However, we can say that our 2009 CONWAY Cabernet Sauvignon is made with the finest grapes from this unique and historically significant area. Each step of the process from harvest to bottling was executed with precision and extreme focus on quality. The care and attention this wine received during its creation is apparent in the unique character and complexity of the finished wine. The first sip is captivating, the famed "Rutherford Dust" evident in the glass.
From now until Thanksgiving Day, we are offering 6-packs of our 2009 Rutherford Cabernet Sauvignon for only $45.00/bottle or $270.00/ 6-pack. Don't miss out on this rare opportunity to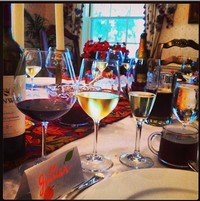 drink $77.00 wine for only $45.00.
Order Now by calling us (805) 709-0151 or visitwww.conwayfamilywines.com

Cheers!

The Conways
Blog
Recent Posts
September 23, 2022

November 2, 2016

June 1, 2016

May 2, 2016

November 11, 2015

October 20, 2014

September 25, 2014

(1 Comment)

September 15, 2014
Blog Categories
Our Writers
Blog Archives